Longitudinal seam welding machine for welding cyclic and conical workpieces, thin sheets and plates up to ~12 mm thick. The length of the components can be up to 8 meters.
The clamping device is operated by a foot pedal to open and close during positioning of the sheets. By our SBI ArcCam the operator can supervise the whole weldline. As typical for these applications, an inertgas flushing protecting shoe is trailing behind the welding point.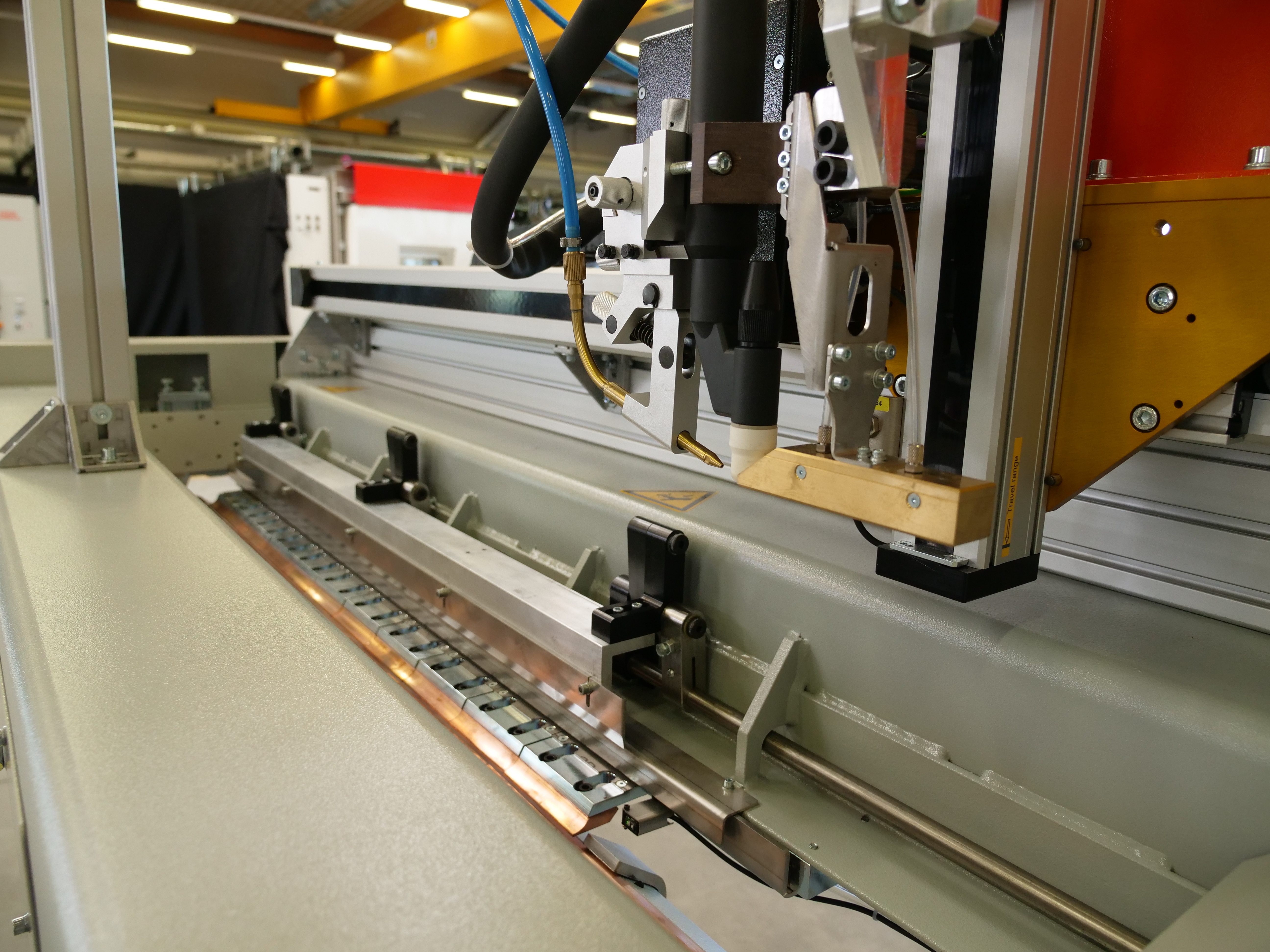 TECHNICAL DETAILS
The electric arc is constricted by a copper nozzle, which causes a higher power density. The concentrated electric arc can be achieved in conjunction with the controllable able gas, higher welding speeds and a deeper penetration, which saves time and money. The tight bundling of the electric arc and the welding speed causes only a narrow heat-effected zone to form, which has a lower thermal distortion in the component result.
| | |
| --- | --- |
| Technical Specifications | SWD |
| main supply | 3 x 400V AC ± 15% 50 / 60 Hz |
| power connection | 4 x 32A CEE plug, 6 mm² |
| welding current (60% ED) | 320A |
| welding current (100% ED) | 290A |
| control range | 3 ÷ 350A |
| idle voltage | 95V |
| pilot current (100% ED) | 30A |
| control range pilot current | 0,5 – 50A |
| degree of protection | IP 21 S |
| manual plasma control | 0,2 ÷ 2,5 l Ar/min |
| manual protection gas control | 1,0 ÷ 25,0 l Ar/min |
| pulse rate | 0,1 – 3300Hz |
| pulse balance | 1 – 99% |
| pulse break current | 10 – 100% |
| pulse time | 0,15 – 3000 ms |
| break time | 0,15 – 3000 ms |
| break current | 5 – 350A |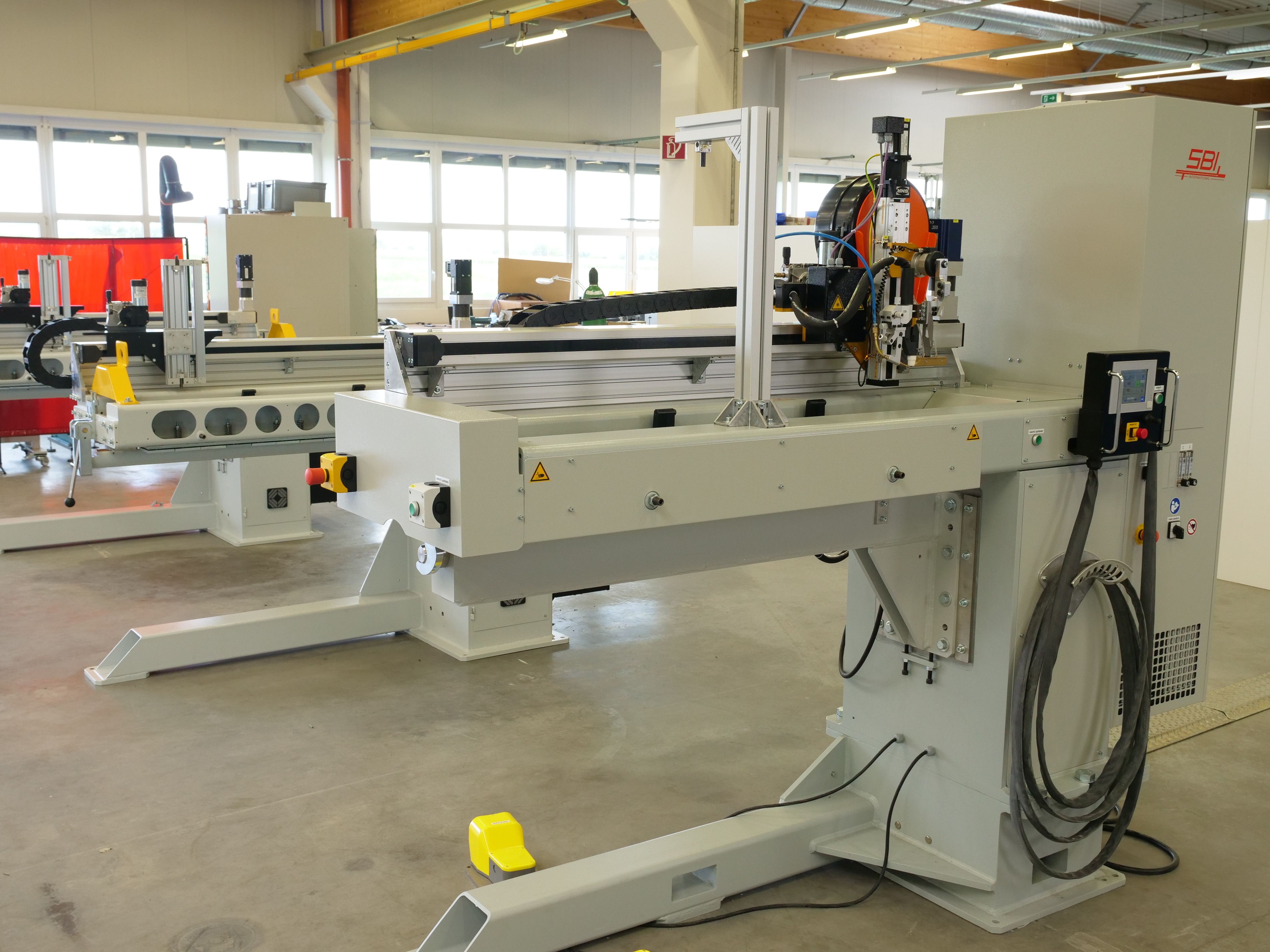 | | | | | | | | | |
| --- | --- | --- | --- | --- | --- | --- | --- | --- |
| Version | SWD | 500 | 1000 | 1500 | 2000 | 2500 | 3000 | 8300 |
| length | mm | 2050 | 2550 | 3050 | 3550 | 4050 | 4900 | |
| width | mm | 800 | 800 | 800 | 800 | 800 | 800 | |
| height | mm | 1960 | 1960 | 1960 | 1960 | 1960 | 1960 | |
| welding height | mm | 1000 | 1000 | 1000 | 1000 | 1000 | 1000 | |
| welding length | mm | 500 | 1000 | 1500 | 2000 | 2500 | 3000 | 8300 |
| span length | mm | 600 | 1100 | 1600 | 2100 | 2600 | 3200 | |
| pipe diameter min. – max. | mm | 80 – 800 | 80 – 800 | 120 – 800 | 190 – 800 | 200 – 800 | 250 – 800 | |
| material thickness | mm | 0.5 – 3.0 | 0.5 – 3.0 | 0.5 – 3.0 | 0.5 – 3.0 | 0.5 – 3.0 | 0.5 – 3.0 | |
| own weight | kg | 1050 | 1200 | 1350 | 1550 | 1700 | 1900 | |
| gross weight | kg | 1350 | 1500 | 1700 | 1950 | 2100 | 2400 | |