Traditional machining scratches its limits when it comes to high complexity.
We believe in the new way of additive innovation.
In our group we combine a variety of unique know-how in the field of smart welding, novel materials, industrial automation, additive manufacturing and efficient conventional machining.
The Additive Manufacturing Application Center (AMAC) was established by our technology partner RHP Technology GmbH at Seibersdorf in the south of Vienna.
In our AMAC we operate both, 3-5 axis CNC portal systems and robotic AM-systems powered by its revolutionary AM-technology Plasma Metal Deposition – PMD.
The AMAC also offers a broad range of postprocessing like milling, lathing, EDM, heat treatments as well as material characterization.
We are happy to be challenged by your needs and innovative ideas!
Services we offer:
AM part planning
Use the deep experience of our team for a fast-track develpment and shortened time to market.
AM material selection
Our specialists and material scientists will support you for selecting the specific material for your application. With the background of material scientists at RHP-Technolgy and voestalpine Böhler Welding you can use the full range of know-how for your projects.
Additive Manufacturing
In our AM Application Center at the Austrian Reseach Center Seibersdorf you will find varíous AM technologies to compare and tune to your needs. We build your part, follow your ideas and evaluate the best technology fitting for your project.
Post treatments
Within the center we are also equipped with various possibilities for posttreatment of the AM parts, like thermal stress relaxation, solution annealing, etc.
Final machining
As big AM parts typically ask for machining, all over or at certain areas, this can also be performed in-house. Milling, lathing, grinding, wire cutting, waterjet cutting, etc. is available.
Process optimization
For best results, processes need to be optimized. Our skilled team is trained to follow best optimization runs for your customized routines.
Material testing & Analysis
In order to confirm the quality of the additively built parts, we offer material testing and material analysis within the application center.
Demonstrator delivery
You need a demonstration or a 3D part with your own geometry? Feel free to contact us, this is what we are operating this center for.
Technology consulting
To complete our services, we are very open to give you insight into our knowlege base. Additionally we are running various research projects and a world-wide scientific network to stay upfront with this emerging technology.
Education
Training, workshops, webmeetings, and many more activities to transfer our knowledge into your products and train your staff.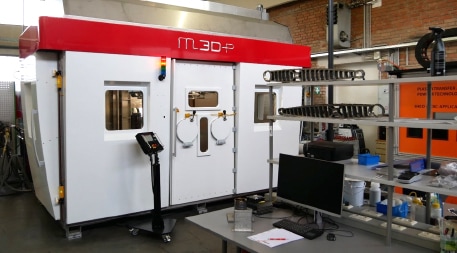 Feel free to ask for a demonstration, also using your specific requirements.
---